Not sure which unit size is best for You?
We have included some examples of our popular storage sizes. Our internal walk-in units start at 20sq.ft , while our external units start at 50sq.ft.
We also have a range of storage lockers available for those with smaller storage requirements. Don't worry if you`re still unsure as we have several alternative sizes to choose from.
Our staff will be more than happy to assist you on this.
Pay in full for 6 months and receive 10% discount
Pay in full for 12 months and receive 15% discount
Available to new and existing customers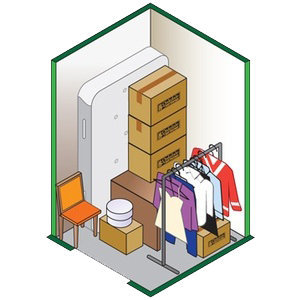 We provide locker storage. If you are a student looking for storage we give discounts of €5.00 off if you have a valid student card.
Bulk storage. 24 hour access all sizes.
16 sq ft 4 ft x 4 ft x 9 ft high
20 sq ft 4 ft x 5ft x 9 ft high
25 sq ft 5 ft x 5 ft x 9 ft high
35 sq ft 7.5x 5 ft x 9 ft high
40 sq ft 10 ft x 4 ft x 9 ft high
50 sq ft 10 ft x 5 ft x 9 ft high
60 sq ft 10 ft x 6 ft x 9 ft high
75 sq ft 10 ft x 7.5 ft x 9 ft high
80 sq ft 10 ft x 8 ft x 9 ft high
90 sq ft 10 ft x 9 ft x 9 ft high
100 sq ft 10 ft x 10 ft x 9 ft high
120 sq ft 10 ft x 12 ft x 9 ft high
125 sq ft 10 ft x 12.5 ft x 9 ft high
150 sq ft 10 ft x 15 ft x 9 ft high
175 sq ft 10 ft x 17.5 ft x 9 ft high
200 sq ft 20 ft x 20 ft x 9 ft high